Zack Binspin
the Moptop Tweenybop is a
Moshling
in the
RoxStars
set. He first appeared in
Moptop Tweenybop (My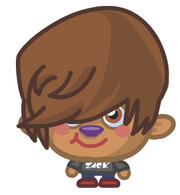 Hair's Too Long)
, his first song.
Sweet Tooth impersonated Zack during the Moshi Fest, she made him ill using poisned sweets and then performed is his place.
Sweet Tooth dressed up as Zack before revealing her true self and then performing and hypnotising Moshlings watching. 
Zack Binspin has dreamt of being a famous singer ever since he saw Screech McPiehole yelling on the Top of the Mops. And now thanks to his high-troused mentor, Simon Growl, that dream is finally a reality. Zack used to sing backing vocals for one of Monstro City's biggest bin-bound singers but solo gooperstardom beckoned the second he was signed by Highpants Productions. I'm to old to get caught up in all of this Binspinmainia but I have to admit this Moptop Tweenybop writes some real toe-tappers. I might even take his CD on my next expedition
Simon Growl and fishbone combs
Rival bin-bound pop stars and clumsy Glumps
Ad blocker interference detected!
Wikia is a free-to-use site that makes money from advertising. We have a modified experience for viewers using ad blockers

Wikia is not accessible if you've made further modifications. Remove the custom ad blocker rule(s) and the page will load as expected.