YoYo
the Creative Coyote is a rare
Moshling
in
Moshi Monsters
, who has a love interest of
Poppet
. He is a hipster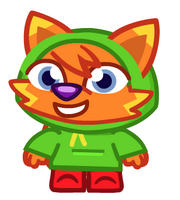 coyote, therefore he is in the
Hipsters
set. 
Not to be confused with Hoxy Foxies, Creative Coyotes love making things, from yoghurt pot rockets to sausage skin legwarmers. When they're not busy starting new trends, these hip little Moshlings enjoy painting silly slogans on walls by dipping their bushy tails in paint. Swish!
Recycled cardboard and fixed-wheel tandems.
Cheap glue and beep-beeping birds.
Ad blocker interference detected!
Wikia is a free-to-use site that makes money from advertising. We have a modified experience for viewers using ad blockers

Wikia is not accessible if you've made further modifications. Remove the custom ad blocker rule(s) and the page will load as expected.