Splatter
the Abstract Artiste is an unreleased
Moshling
in the
Arties
set in
Moshi Monsters
, resembling a paint pallete.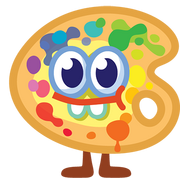 Is it art or an utter shambles? Who cares because every Abstract Artiste's ambition is to win the coveted Blurgh-ner Prize For Bafflingly Bonkers Art. That's why these crazy Moshlings spend all day flicking gluey glitter of Oobla Doobla in huge tanks of fluorescent jelly. Magnificent!
Ad blocker interference detected!
Wikia is a free-to-use site that makes money from advertising. We have a modified experience for viewers using ad blockers

Wikia is not accessible if you've made further modifications. Remove the custom ad blocker rule(s) and the page will load as expected.