Pinestein
the Joyful Juicy Brainiac was the winner of the
Design a Moshling Contest 2013
. He is a parody of famous scientist, Albert Einstein.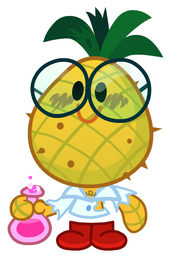 He was created and designed by Paul Kolendo (Crocmonsieur2004), aged nine, from Dorset.
With IQs of 256, 984, Joyful Juicy Braniacs can calculate the circumference of the Fun Park's wheel in five seconds flat. But there's more to these science-loving Moshlings that mere mathematics because they also enjoy creating fruit zombies by re-animating slices of tinned fruit using giant potato batteries.
Algebra and labarotory conditions.
Low IQs and getting caught in the rain.
Ad blocker interference detected!
Wikia is a free-to-use site that makes money from advertising. We have a modified experience for viewers using ad blockers

Wikia is not accessible if you've made further modifications. Remove the custom ad blocker rule(s) and the page will load as expected.