Jibbly the Dearly-Departed Nibbly is an Ultra-Rare Moshling in Moshi Monsters in the Screamies set, resembling a zombie.
He was released as part of
Moshis vs Ghosts
on October 17th along with the other Moshlings
Glob
,
Randall
,
Marsha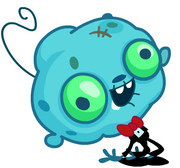 and
Hoolio
.
It's not easy being a debonair high-roller when you can't resist snacking on fellow Moshlings. Luckily, Dearly-Departed Nibblies only get peckish at night, so they can enjoy spending their days drooling over the finer things in life, such as vintage wobble-ade, swing music and rancid eyeball roulette.
Fresh meat and funky finger clicking.
Hippies and sledgehammers.
Ad blocker interference detected!
Wikia is a free-to-use site that makes money from advertising. We have a modified experience for viewers using ad blockers

Wikia is not accessible if you've made further modifications. Remove the custom ad blocker rule(s) and the page will load as expected.