Fitch
the Flat-Tailed Fuzzle is a
Moshling
in
Moshi Monsters
, resembling a beaver. He is the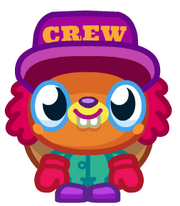 Movies
set along with
Blinki
,
Marty
and
Jackson
.
He will feature in the Series 8 collectible figures and was spotted in a Series 8 silhouette image found on the 13th August, 2013.
Fitch's design and name was found in Issue #33 of the Moshi Monsters Magazine, where Fitch was featured as a sticker.
Fitch is also featured in the Series 8 Moshling Figurines, released on October 18th, 2013.
If you're in the movie business, you're bound to know a few Flat-Tailed Fuzzles. Renowned for their ability to fetch absolutely anything you desire, 24/7, these perky little Moshlings make ideal golfers. What's more, their sturdy tails are perfect for balancing cups of coffee, fat contracts and ego and cress sandwiches.
Blockbusters and golf carts.
Egotistical gooperstars and slowcoaches.
Ad blocker interference detected!
Wikia is a free-to-use site that makes money from advertising. We have a modified experience for viewers using ad blockers

Wikia is not accessible if you've made further modifications. Remove the custom ad blocker rule(s) and the page will load as expected.