Eugene the Square Pear is an upcoming, unreleased Moshling on Moshi Monsters who is in the form of a green pear, in the Fruities set.
He first appeared in the 32nd issue of the
Moshi Monsters Magazine
, on the last page. In Issue 33, a sticker of him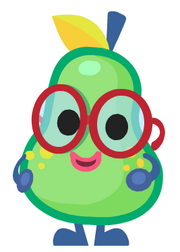 was released.
They look fun and fruity but Square Pears are incredibly, er, square. Why? Well on top of worrying about what the neighbours will think, these clever but cautious Moshlings are always tut-tutting about something, whether its the latest Missy Kix video or the price of Snail Ale. Progress? Huh!
Putting sticks in the mud and twiching curtains
Pop music and Bongo Colada.
Ad blocker interference detected!
Wikia is a free-to-use site that makes money from advertising. We have a modified experience for viewers using ad blockers

Wikia is not accessible if you've made further modifications. Remove the custom ad blocker rule(s) and the page will load as expected.