Blinki
the All-Seeing Moment Muncher is an unreleased
Moshling
in the
Movies
set, resembling a camera. Blinki will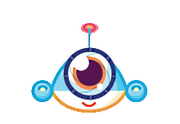 be featured in the
Series 8 Figures
, when the silhouette was spotted in a Series 8 image found on August 13, 2013.
Blinki will also feature in the Moshi Monsters Movie named 'The Great Moshling Egg', that is set for release on December 20, 2013. An image of Blinki was found on August 20, 2013 when Mind Candy released the Moshi Monsters Movie teaser poster.
On August 24, 2013, his name and species was first revealed on the cover for the official movie novel.
With his long range moshiscopic eye, nifty side jets and twiddly transmitter, Blinki is fully equiped to capture any moment, no matter how bizarre. Thats just aswell because this adventure-seeking moshling is Roary Scrawls Moshi-cam partner in the movie making magic. Blinki can even playback the moments he munches via his holographic projector.
Lens wipes and rollicking stories.
Hot hoodoo stew and kerfluffling.
Ad blocker interference detected!
Wikia is a free-to-use site that makes money from advertising. We have a modified experience for viewers using ad blockers

Wikia is not accessible if you've made further modifications. Remove the custom ad blocker rule(s) and the page will load as expected.