Big Bad Bill
the
Woolly Blue Hoodoo
is an Ultra Rare
Moshling
in the
Spookies
set. You meet him at the
Unknown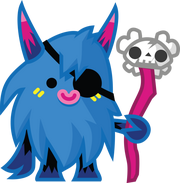 Zone
of
Music Island
during
Bungle in the Jungle
.
He was also voted the Spookiest Moshling in the Spookies set as of the Daily Growl on the 10th October, 2012 and was featured on the Halloween Daily Growl cover.
Woolly Blue Hoodoos are wise, old Moshlings who know everything about lotions, potions, hexes and spells. If you've got a pain in the rear, or a bug in your ear, these helpful furballs will cure it before you can say 'umba-wanga-thlunk'. Maybe even faster. They are never seen without their mystical Staffs of Power. Woolly Blue Hoodoos are really scared of teaspoons. Maybe they don't like their own medicine.
Deep massage and deep fried Oobla Doobla
Clowns and itchy eyeballs
Ad blocker interference detected!
Wikia is a free-to-use site that makes money from advertising. We have a modified experience for viewers using ad blockers

Wikia is not accessible if you've made further modifications. Remove the custom ad blocker rule(s) and the page will load as expected.